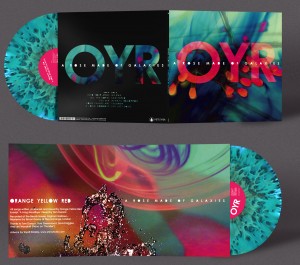 Saint Marie Records have kindly released our album "A Rose Made of Galaxies" on vinyl from the 24bit masters.
Limited to 250, 180 gm, splatter DOUBLEMINT GREEN on ELECTRIC BLUE vinyl in gatefold jacket.
There is also a very limited edition version (only 30 available) that comes with a bonus 1 sided 7″ record of the bonus track "Of Yesterday". Don't miss out!
All orders of this album come with an immediate download of the album in MP3 (320 kbps) format.
The pre-order for the very limited Orange Yellow Red vinyl is now available from Saint Marie Records.
Ltd Ed Bonus 7″ Disc "Of Yesterday"…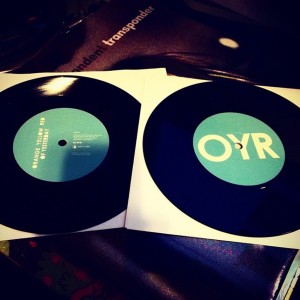 Nice little review in The Pirates Press Record Of The Week Blog.
"Recorded in the picturesque South Coast of the UK, this debut album from ORANGE YELLOW RED will definitely have your imagination seeing colors. ORANGE YELLOW RED is a mixture of Shoe Gaze and Dreampop, which just happens to be the specialty of SAINT MARIE RECORDS, the label with the vision to put out this masterpiece. With a gatefold jacket in reverse board finish this 'Doublemint Green' and 'Electric Blue' Aside/Bside record also has 'Olive Green' splatter throughout. The blues and greens swirl in a subtle mixture that is hard to describe. If you get to SAINT MARIE RECORDS' website in time, you might be able to pick up the limited edition version that also includes a bonus 7"!!!"